23/04/01
The software industry has used Easter eggs–those hidden features and surprises–to delight customers for decades. Here's why they work so well.

Before you read:
Six sentences have been removed from the text below. Choose from the sentences a-f the one which fits each gap.
Ever hear of Easter eggs? Not the dyed hardboiled type many hide for kids to find in the spring and then, when they don't, eventually advertise their positions with the gentle aroma of sulfur dioxide. We're talking about the little surprises left in software, entertainment packages, and other tech products that consumers are supposed to discover and enjoy. 1. …………………….. Easter eggs can become part of a serious brand strategy says Ryan Hoover, a product director at PlayHaven, a company that makes software for game developers. (…)
The practice goes back decades in software and long before then, as well. How many people used to regularly look at Al Hirschfeld's caricatures of entertainment names and look for the hidden "Ninas," the name of his daughter, in the drawings? You could say that Where's Waldo is nothing but a big printed series of Easter eggs.
Users of iPhones swapped stories about the funny answers they could get from Siri. Google's front page doodles are like Easter eggs, only, ironically, without the need to search for them. DVD versions of movies have had Easter eggs in which you might have to execute an odd string of actions to get a special feature that you would not otherwise see. 2. ………………………… .
Why They're Powerful
In a nutshell, that gets to the power of Easter eggs. 3. …………………………… Hoover started thinking about this when looking at some hidden features of Snapchat, the image-based social networking platform. People send each other images that quickly disappear. 4. ……………………………. I'll add a couple of others at the end of his list.
People talk to each other about a product because they want to show that they're in the know and reveal the secret to friends.
Knowledge of the Easter eggs lets users put themselves into a special class of insiders.
Because of the "wow" effect they have, Easter eggs can help build a brand.
Make the surprise widely enough known and you could trigger waves of earned press, as Apple did with Siri.
Easter eggs can be part of the product line figuratively and not just literally. They become anticipated surprises the people look forward to.
5. .………………………………………….. , Easter eggs are not a casual undertaking. Years ago I spoke with someone highly placed in the entertainment industry about the use of Easter eggs in DVDs. Although some users would find them through obsessive searching, it seemed hard to believe that people might stumble across some of the odd strings of activities necessary to activate them.
6. ………………………………………… . Not only were the studios placing the Easter eggs in the DVDs, but they would seed the mechanisms with some influential people, looking for them to pass the information along in a grassroots way. Some even had such users on the payroll.
a) As it turns out, chance had nothing to do with it.
b) One thing to remember is that despite their origin as a bit of whimsy on the part of a programmer or artist
c) People enjoy finding them and can even get to the point of repeat business to satisfy the surprise itch.
d) You can even find Easter eggs in office productivity software like Microsoft Word.
e) But they're more than a harmless joke.
f) Hoover sees three things that Easter eggs can deliver.
To read the whole article/check your answers, visit: https://www.inc.com/want-a-more-attractive-brand-get-customers-looking-for-easter-eggs
Key: 1.e); 2d); 3c) 4f); 5b); 6a)
Glossary
sulfur dioxide – a heavy pungent (= smelling very strong) toxic gas SO2
doodle – an aimless or casual scribble, design, or sketch
itch – a restless usually constant often compulsive desire
in the know – (informal) having more information about something than most people
whimsy – something that is intended to be strange and humorous but in fact has little real meaning or value
grassroots – the common or ordinary people, especially as contrasted with the leadership or elite of a political party, social organization, etc
Practice makes perfect
Fill in the gaps with the verbs in brackets in the correct tense:
Around the United States, children have been visiting the Easter bunny for their annual photo. Much like Santa, the Easter bunny can be found at a number of venues: malls and garden nurseries are popular in my area, but friends 1. ………… (post) photos from organized community events, schools, museums, firehouses, and daycares. He's one of more recognizable symbols of Easter but he is a contradiction. How 2. …..he …. (lay) eggs? Why 3. ….. he ……. (bring) them? Where 4. …… he ….. (come) from? We can't dismiss him as a random image of the holiday. The Easter bunny 5. ……. (exist) – and 6. ………. (survive)—because he does connect with the holiday. A closer look, however, 7. …….. (offer) an alternative to the popular fertility and birth associations more commonly assigned to him.
The Easter bunny as we know him 8. ………. (not have) a clear origin. He 9. … (seem) to have been transported to the Americas in the latter part of the 1800s. Most histories 10. …… (trace) him to Germanic traditions. One story 11. ….. (tell) of an poor woman who 12. ……. (not have) money for gifts as Easter approached. She 13. ……… (decorate) some eggs and 14. …….. (hide) them for her children. When they 15. ……. (find) them, they 16. …… (see) a rabbit hopping away, and so 17. ……… (believe) the rabbit 18. …….. (bring) them the eggs. (…)
In order to read the whole article/check your answers, go to: https://blogs.scientificamerican.com/anthropology-in-practice/the-legacy-of-the-trickster
Key

: 1. have posted; 2. does he lay; 3. does he bring; 4. does he come; 5. exists; 6. has survived; 7. offers; 8. doesn't have; 9. seems; 10. trace; 11. tells; 12. didn't have; 13. decorated; 14. hid; 15. found; 16. saw; 17. believed; 18. had brought
Discuss
According to the Christian religion, Easter is a more important holiday than Christmas. Why is this so?
What are some traditional Easter dishes in your country?
Should Easter be at the same time / on the same date every year?
What do you like and dislike about Easter?
Have you ever suffered because of Easter Monday tradition?
Is Easter less commercial than Christmas? Why (not)?
Explore more to create your own teaching-learning experience!
30 Easter Gifts To Get In The Spring Spirit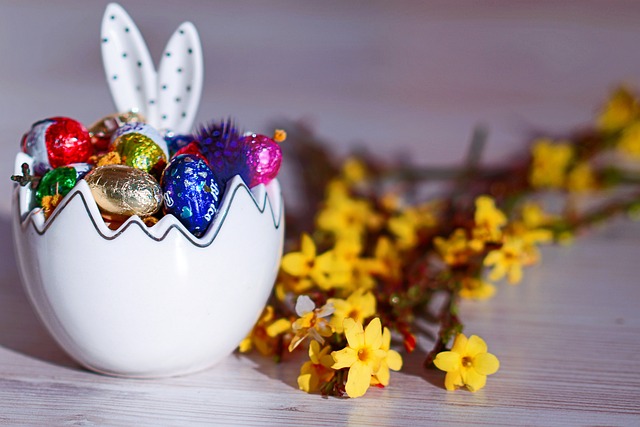 Read:
https://www.forbes.com/sites/forbes-personal-shopper/best-easter-gifts
(2575)